Come Read with Me Staff:
Must genuinely enjoy adults with developmental disabilities
Must honestly believe our students have the capacity and desire to learn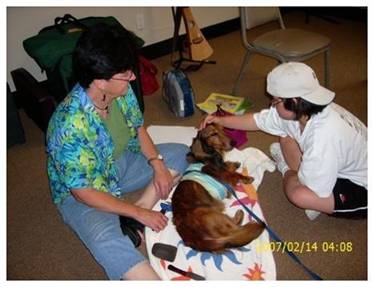 Lead Teacher requirements:
Must be kind
Must have a college degree
Must have teaching experience
Staff Members
Staff varies as teachers' schedules allow and students' needs arise.
Responsibilities: Executive and Lead teacher
Courses taught: Reading, Computers
Education: BS (Honors) Chemistry, Management City and Guilds Teaching
Occupational Background: Training Manager for Residential Disability Care Home in London, England; Basic Skills Teacher for a college in London working with young adults
Other interests: I love traveling with my husband and two boys. I have a tiny chihuahua called "Princess Nri Bri". Originally I came from London England but I love it here in Texas!
Responsibilities: Office management
Courses Taught: Health Education, Gardening
Education: Leonard Business School, El Centro College
Occupational Background: Professional background in management
Other Interests: Decorating, gardening, fishing
Responsibilities: Advisor to the Director; Office Support
Occupational Background: Medical offices
Other interests: art
Mary Jones
Responsibilities: Reading tutoring and assessments, Math, Library
Course(s) taught: Reading, Math
Education: Bachelor's degree – SWOSU Weatherford, Okla., M. Ed – UNT – Denton, Texas, Endorsement for the Barton Reading Program, Certified in Preschool through 12th grade
Occupational Background: Teacher for twenty-five years in public school, Teacher in private schools also for several years
Other interests: Family and Grandchildren, Reading, Crafts, Unique Learning Materials, Sewing, Making jewelry & wooden puzzles
Responsibilities: Educational Diagnostician and Lead Teacher
Courses taught: Math, Science, Social Skills
Education:

Bachelor of Science, Psychology & Social Work, Texas Christian University
Master of Business Administration, Management Information Systems & Marketing, Texas Christian University
Master of Education, Special Education & Educational Diagnostics, University of North Texas
Principal Certification, University of Texas at Arlington

Texas Educator Certifications:

Principal (All Grades)
Educational Diagnostician (All Grades)
Special Education (All Grades)
English as a Second Language (All Grades)
Elementary (Grades Pre-K – 6)
Secondary Science (Grades 6 – 12)
Secondary Mathematics (Grades 6 – 12)

Occupational Background:

Special Education Teacher & Educational Diagnostician – 21 years
US Navy Chief Hospital Corpsman – 24 years
Healthcare Administrator – 14 years

Other interests: Travel, Cinema, Music, Collegiate sports (TCU and N*) and proud parent of a black & tan Dachshund and a Midshipman at the United States Naval Academy
Joan Pruit
Responsibilities: Lead Teacher; Guidance to director
Course(s) taught: Reading; Math
Education: East Carolina University: Politics major; Graduate School at University of Dallas, Political Philosophy and Literature
Occupational Background: Advocate
Active volunteer at schools of my teens Cistercian Preparatory School and Ursuline Academy
Member of Stewardship Committee at St. Francis
Catechist for RCIA and CCD program at same church
Ministries–Marriage preparation, Adoration, Holy Communion to nursing home residents, Gabriel's Angel for expectant mothers
Other interests: Born in Asheville, North Carolina. I have 7 children, ages 30-14 yrs. Member of St. Francis Catholic Church, Grapevine. Culture studies, history of ideas, religion, art, politics, theology, special needs of persons with disabilities, culture of life issues–abortion and medical research using moral means. Scripture study, and, of course, READING, POETRY AND WRITING
Linda Quinn
Responsibilities: Lead Teacher; Come Read with Me Advisory Board
Course(s) taught: Drama and dance
Education: Texas Women's University: BA Drama/English; Ph.D. Dance/Humanities
Occupational Background: teaching drama, dance, creative writing
Responsibilities: Various accounting duties
Education: BSBA Accounting Major/ Drake University/ Des Moines, Iowa; CPA (inactive at this time)
Occupational Background: KPMG Public Accounting firm from 1980 – 1995; Senior Manager/Auditing
Other interests: Church, family, pets, music and watching a variety of sports
Martha Kate Downey
Responsibilities: Founder and Board Member
Education: Bachelor Degree in Social Work Texas Tech University 1973
Occupational Background: Author, speaker, educator but mainly just Mom (including some fairly boring information for those needing background material)
Caseworker for Tarrant County Child Protective Services (State of Texas)
Easter Bunny…don't ask!
Homeschooler 24 years
Instructor of life skills and decision-making skills in Texas high schools, Temple Junior College, Temple, Texas
Instructor for creative writing course for Texas homeschooling students via classroom and internet sites
Developer and co-instructor for Grapevine-Colleyville ISD Texas summer program for maintaining math and reading skills through the summer (Just for Fun classes)
Reading tutor for struggling learners since age 12. Volunteering in schools, churches and with clients of MHMR (Mental Health Mental Retardation – State of Texas)
Owner of stained glass studio "Glass by MK" 14 years – did lots of front doors and church windows
Author and illustrator of:

If you've ever wanted to crawl in the closet with an OREO…(

first and second editions) copyright 2000, 2003

TAP DANCING in the night

copyright 2001

The People in a Girl's Life

copyright 2002

What Do I Do About Hitting?!

copyright 2003

Travelling Grace as I meander with God

copyright 2004

Public speaker, educator for and about autism and the more general special needs population around the United States and the UK
Member of and past moderator for DANISH (Dallas Asperger Network for Information, Support and Help)
Advisory Board Member – North Texas SNAP, Inc. (Special Needs Assistance Partners)
Board Member – DIAL (Developing Independent Adult Living) in Tarrant County
Founder of Steps to Support for All – an association working to promote funding and programs for those who are aging or have special needs in the state of Texas
Member of the Family Support Council of Tarrant County MHMR
Founder and Executive Director of the Come Read with Me program
Other interests: Music, art Most important interest: Grandmothering!!!!!!!!!!!!!!
---